For the quick and simple two-liner:

Kristina Springer is the author of Cotton Candy Wishes (Skyhorse Publishing), Cici Reno #MiddleSchoolMatchmaker (Sterling Children's), My Fake Boyfriend Is Better Than Yours (Macmillan/FSG), a Scholastic Book Club Bestseller and 2012 YALSA Quick Pick book; The Espressologist (Macmillan,/FSG), a 2010 Society of School Librarians International Honor Book and 2014 Illinois Reads Book that has been purchased for film by Michael Eisner's Vuguru; and Just Your Average Princess (Macmillan/FSG). She has a Masters in Writing from DePaul University and resides in a suburb of Chicago with her husband and children.

But if you want the whole story? Read on…
I was a darling child. DARLING.

Very well behaved and extremely intelligent from what I hear. I began writing Haiku with my alphabet blocks at age one. My parents were so impressed with my rare talent that they sent me to a writing intensive boarding school for the next 16 years. It was here where I wrote my first 25 novels.

Kidding! I had no idea I wanted to be a writer. Not until I was in my twenties. For the longest time I wanted to be a rock star. I would wear lots of pink and glitter and be Tina Rockafina. You've got to admit, it was a great name. But even then I mostly just wrote about being a rock star.
| | |
| --- | --- |
| From ages 10-14, I wrote, directed, produced, and starred in yearly family Christmas plays that I forced my siblings and cousins to perform in. They. Were. Awesome. But alas, it wasn't really cool to put on living room productions after age 14. And boys were cute. And being the president and founder of the local New Kids on the Block fan club was really eating up my free time. So the plays were axed. | |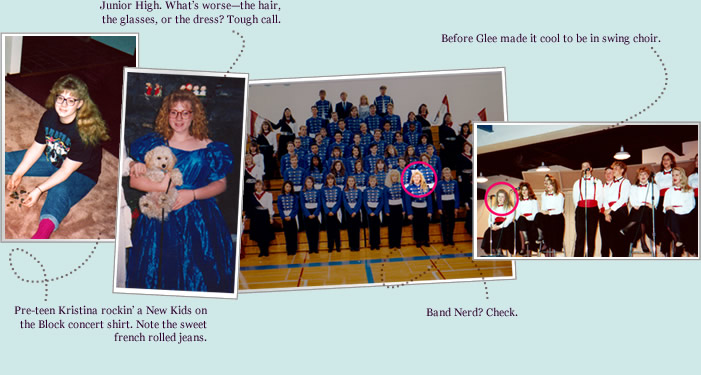 In my tweens and teens, a neighborhood friend and I wrote stories and made up fake magazines for each other and it was way fun. But nope, still didn't know I wanted to be a writer.

I read every young adult book I could get my hands on and let me tell you, my Sweet Valley High collection was rockin'. But no, still not a clue.

I attended a tiny high school in a small western suburb of Chicago (so, not surprisingly, lots of my books take place either in Chicago or fictional suburbs of) and if you asked me to sign your yearbook, you could expect 2-3 solid pages of it to be filled with my ramblings (what did I write about anyway back then?). But nope. It was then that I decided I wanted to be a nurse. Mostly to spite the school guidance counselor who told me, "You're not smart enough to go to college. Why don't you become a secretary?" (Lesson: Don't listen to silly old men who tell you that you can't do something.)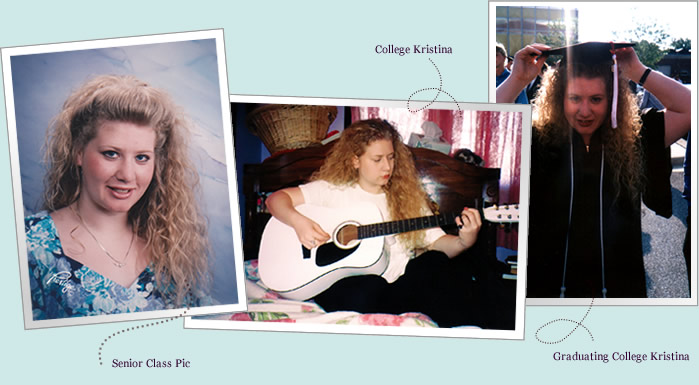 So with this, I promptly got into an excellent nursing program at NIU (Northern Illinois University). I started taking the basic freshman classes and upon my first visit to the nursing lab I realized, um…I really did NOT want to be a nurse. But, I was really digging my first college English class, even though the teacher was a wee bit strange. She liked my writing. She was encouraging. She thought I should submit my essays to various places. So I switched majors to, that's right, English.

I thoroughly enjoyed all of the fantastic English courses and amazing teachers at Northern. But it hit me junior year, what am I going to do with this major? So I tried a technical writing internship. And I couldn't type. And the nice guy who shared my office constantly had to save my butt. Then it hit me, eureka! I should teach high school (Yeah, I don't see the connection either).

I transferred to ISU (Illinois State University) for their awesome education program and graduated with a BA in English Education and a teaching certificate for grades 6-12. I loved the program and loved student teaching (all A's too, not that I'm bragging, much) but thought, nah, don't want to teach high school either. Seriously, I was so wishy-washy back then.
So then I decided that I wanted to write for TV and I applied for internships for 90210, Party of Five, and All My Children (my favorite shows at the time). Party of Five and All My Children called me, but no dice.

I wrote lots of bad poetry during this time as well. Thankfully, no one read it. Except my wonderful husband Athens. And he married me anyway a year after graduation.

So I took a job in tech support at a software company and immediately enrolled in a Masters in Writing program at DePaul University (ah…I'm getting closer). Answering the phones got boring (Hello? Reboot. Hello? Reboot. Just kidding, kinda) and I kept writing procedures for everything I could think of (I knew how to type fast at this point-- phew) and rewriting crappy manuals and guess what? They offered me a job as a technical writer.

Now this was pretty fun. My bad internship experience was a thing of the past. I suddenly knew what I was doing. (Isn't that a lovely feeling?) Technical writing is a totally different kind of writing (very precise, very fact-based, no opinion whatsoever) But I dug it. And I was good at it. And I worked as a tech writer for 4-5 years. I also started teaching tech writing at DePaul University (great job, great school) right out of grad school and continued with that for six years.
I began freelance writing in 2000 and published articles both online and in magazines. I even had a stint as a relationship expert at the former relationship101.com which consisted of writing a weekly Internet Love column for a year (so FUN!). Interviewing people about their crazy online hookups is the best. Just saying.

At this point I was a tech writer, freelance writer, and a teacher and I was itching to do the mommy thing so I had my first kiddo, my son Teegan. And the mommy thing=way cool. So, shortly after came my daughter Maya. And my second daughter, London. And, hey, why not one more, a second son, Gavin. All within five years. Yeah. Can you tell I like to be busy?

So where did the fiction writing come in? Whoops, I almost forgot to get back to that. Ok, so the summer after I had Maya (2005), it hit me that I've always loved young adult books, I watch way too many shows like Dawson's Creek and The Hills (and over and over again, which drives my dear husband nuts), and I absolutely loved the college years and would have stayed there forever if I could have (hey, I tried) (Note: I didn't say I loved the high school years. But I love to write about them.) I had lots of ideas swimming around in my head and the hubs said, start writing. So I did. I wrote my first book in 4 months. But then I thought what now? So I slooooooowly edited it and felt my way around the whole writing culture. You know, hit all of the popular spots like Verla Kay's Message board, the Absolute Write Water Cooler, and Live Journal. I signed up for Lauren Barnholdt's YA Chicklit online class (where I met two of my wonderful critique partners, Deena and Emily) and slowly started querying agents. At the end of summer of 2006, I started writing The Espressologist and got really caught up in that. And started slacking a bit with the agent hunt. I finished writing The Espressologist in roughly four months again, edited, and started queries to agents.
Fast forward to April 2007 when I got two offers of representation from two cool literary agents. I signed with the agent that I clicked most with and we started submitting
The Espressologist the next day. Within a few weeks my book went to auction and FOUR fantastic publishers made offers. In the end, I signed a 2-book contract with Farrar, Straus, and Giroux.

THE ESPRESSOLOGIST came out in hard cover on October 27, 2009 (My birthday—it was such an awesome day!) and in paperback in January of 2010. It has also been translated into Japanese, Indonesian, Korean, German, Russian, and Czech. It was a 2010 Society of School Librarians International Honor Book and 2014 Illinois Reads Book that has been purchased for film by Michael Eisner's Vuguru. My middle grade book, MY FAKE BOYFRIEND IS BETTER THAN YOURS, came out in hard cover on August 31, 2010 and paperback in December of 2013. It was a Scholastic Book Club Bestseller and 2012 YALSA Quick Pick book and it was also translated into German.. My third book, JUST YOUR AVERAGE PRINCESS came out October 11, 2011. CICI RENO #MiddleSchoolMatchmaker came out on April 19, 2016. And my latest book, Cotton Candy Wishes, came out on January 8, 2019.
Meanwhile, I'm still writing lots of books and loving it. This is seriously the best job ever—from writing the first line to editing the finished book to getting the final cover and seeing each book on the bookshelf in a store. I finally found exactly what I want to do and it's an awesome, awesome thing.